If you attend an international school, you are probably familiar with the concept of IGCSEs. IGCSE is a qualification designed by Cambridge for students between the ages of 14 to 16. It's one of the most popular qualifications for this age group and most international schools offer IGCSEs. Here are just 5 of the many other reasons doing the IGCSE would be a good choice
1. They are accepted by institutions of higher education around the world
If you are a third culture kid, you have likely lived in many countries in the world. And it's likely that the country you are living in right now may not be your home forever. If you've found yourself questioning where you might pursue further studies and are considering many different countries, doing the IGCSEs are a great way to make sure you are eligible to study almost anywhere you desire. The IGCSEs are accepted as a formal certification in almost all countries in the world and can be your passport to access the best colleges and universities after you graduate. Some of the best universities of the world highly regard the IGCSEs. If you are curious on where your IGCSE degree maybe recognized, you can pop onto recognition.cambridgeinternational.org, a web directory which lists worldwide organizations that formally accept the IGCSEs. 
2. Unexpected moves can be a bit easier
Considering the IGCSE is usually a two-year program, you may be wondering what happens if you end up moving before completing your IGCSEs. Indeed, this is a reality for a lot of students around the world whose family's' jobs may require a lot of unexpected moving. Luckily, there are schools that offer IGCSEs all around the world and the IGCSE curriculum is designed in a way that facilitates a smooth transition if you do end up moving half-way through your degree. And while we can't say you miss your friends; we can certainly say you can continue your IGCSE studies where you left off.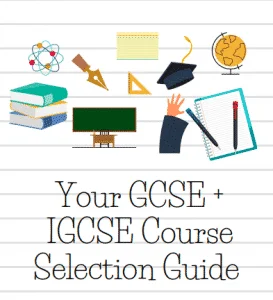 Want to know more about choosing IGCSE courses? Click above for our free guide!
3. There are so many interesting courses offered
If you wish to take some really niche courses during your school years, IGCSEs may be the answer. From travel and tourism to religious studies, IGCSE offers a plethora of arts, humanities, sciences and professional courses. Therefore, these extensive course options can help you figure out where your interests lie and explore subjects you would like to pursue later
4. Pursue language and cultural courses
IGCSE offers several first and second languages as well as cultural studies courses. As a result, you are provided with the opportunity to pursue new languages and understand new cultures or immerse yourself in your own. Even if your school doesn't offer the language of your choice, you may have the option to hire a private tutor and pursue the language in your own time.
5. IGCSE syllabus is designed to helps you gain skills that extend beyond your books 
IGCSE aims to create confident, responsible, reflective, innovative and engaged learners. Indeed, the syllabus and examinations are created to help you develop varied skills and also connect your learning to the real world. For example, science subjects have a focus on appreciating the influence and limitations placed on scientific study. Moreover, many courses focus on improving logic, communication, analytical and problem solving 
We hope this blog can help you make a more informed decision about pursuing IGCSEs. No matter what you choose, we wish you the best of luck on your future studies!! 
Want more IGCSE tips? Check out our recent blog!