The US and UK have long been thought of as the 'best' places to go to university as an international school student because of their top-of-the-line higher education in English. However, with US tuition prices forever increasing and Brexit uncertainty in the UK, more and more students are beginning to look elsewhere when choosing their universities. One country that has grown dramatically in the eyes of international students in the last few years is the Netherlands! They have many English-taught programmes at some of the highest ranked universities in the world. The only question is how do you apply? Let's go through that!
When are applications due?
Application deadlines vary depending on the university you're applying to, as well as if you are a EU or non-EU citizen. However, the deadline is typically in the beginning of May or end of April. A few university programmes are subject to the 'Numerus Fixus' restriction including subjects such as medicine, psychology, international relations, and a few others. Note that if you are applying for a Numerus Fixus programme, your application may be due as early as the 15th of January for admission the following September.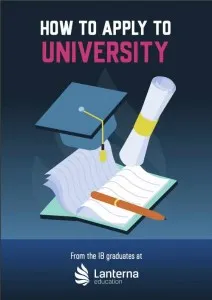 Interested in more top application tips? Click here to access our FREE Guide!
What grades do I need?
The Netherlands has a unique admissions process. Unlike the UK or US where the admissions process is extremely selective, and only the top of the top have a chance at getting a place at the most prestigious universities, you are entitled to a place at a university in the Netherlands if you have an 'appropriate' school diploma. For IB, there is not always a minimum requirement in order to get in, but the average DP score for students at prestigious institutions such as Delft, Erasmus, or University of Amsterdam lies around 33 points. 
For most scientific or mathematical subjects (Engineering, Economics, Mathematics, Medicine, Sciences…) you will likely be required to have taken certain subjects, like Maths HL, Physics HL, or Economics HL during your IB Diploma. This varies from university to university, though, so make sure to read up on the entry requirements for the specific programme you are interested in!
The Netherlands is famous for having relatively lenient entry requirements, but this does not mean that the standards at Dutch universities are any different from what they are in the UK or US. Although many students are accepted, an extremely high proportion of students drop out after their first year as they fail their exams! So, although NL might seem like an 'easy' option to apply to, be aware that the education once you are accepted will be just as hard as it will be anywhere else!


How do I get my offer?
You may receive either an unconditional offer, or a conditional offer after you've applied to a Dutch university. An unconditional offer means you will be accepted as long as you pass your IB, while a conditional offer may require you to score above a particular number of points in total, or in a specific subject. 
How do I apply?
The best way to apply to Dutch universities is to contact the university directly. Although there exists a centralized system called Studielink (which you'll need to sign up to anway), you may be better off applying straight to the university! Especially if you're not applying to more than 2-3 universities. Read the following article for more information on how Studielink works, and what it is!
How much will it cost?
Although universities in the Netherlands aren't free, they are comparatively much cheaper when looking at other top universities around the world! Tuition fees at an average Dutch university may reach up to £1,750 per year. When taking into account accommodation and living costs you may be spending around £10,000 per year. Compare this to the UK, where the tuition alone is around £9,000, or the US where the tuition can go as high as £60,000 per year! 
All things considered, the Netherlands is growing rapidly as one of the best places to pursue higher education as an IB graduate! From the international atmosphere to the quality education all at a reasonable price, it is a path not to be ignored!
Want to find out how to apply stateside? Click here to find out!