How to Structure Your Math IA Format
Are you getting ready to present your Math IA? In this article, we're breaking down the best way to format yours in a way that promotes independent thinking and personal engagement. By following this guide, you'll be able to score highly in your mathematics course.
Understanding What Math IA is All About
Students are required to investigate an area of mathematics and then present it as a written body of work.
Based on this, it is clear that the student needs to know the appropriate mathematical language and relevant key terms to engage in the topic.
While there are different perspectives when it comes to formatting your maths IA, we recommend the steps outlined below.
By following this tried and tested structure for your math IA, each student will be able to present their findings consistently and optimally
.
Personal connection and engagement with the subject matter are key. Familiarise yourself with the steps below, and then dive into your chosen topic. Utilising technology can be helpful in conducting a thorough exploration of the topic.
The use of mathematics to prove and explain concepts is applicable to various contexts. This assessment is a great way for students to expand their knowledge and learn valuable skills.
Your assessment needs to define the concept and aim of the work. This will help to keep your data analysis focused. These ideas need to be conveyed in your writing. This is an area of maths that is not strictly bound to the number!
The examiner will be looking at the quality of the idea and the body of work in relation to the assessment criteria.
How to Structure and Format Maths IA
According to student reviews, IB Maths is a struggle for many students working towards getting their diplomas. Apart from the dreaded mathematics exam, you're also expected to write up the exploration of a topic.
You can think of the IA as a written mathematical presentation that will impact your final grade.
Many IB students find it hard to study mathematical concepts. This process can help you reflect on new relevant logic that you may not have known previously.
So, where do you even begin your IA? Start with the IA format!
Math IA Structure: What is the Internal Assessment?
The internal assessment is an individual evaluation that focuses on subject-related work.
Alongside the criteria, samples of the student's work (oral performances, portfolios, lab reports, and essays) are also submitted to the IB for the final grade.
It should show personal engagement with the topic at hand. In this case, it is about the investigation of and correlation between mathematical concepts.
Breakdown of the Math IA Assessment: Appropriate Mathematical Language
Let's take a look at the criteria for your Math IA. Knowing how you're being graded will make it much easier to make sure you're ticking all the boxes.
Presentation (4 marks)
The first criterion is about the presentation, with the aim of assessing the general organization and coherence of your IA.
Although students tend to focus on the complexity of math that their exploration demonstrates, a full 4 points are rewarded for the clarity of your explanations and structure.
In order to score in the top range here, make sure your IA is clearly structured. We've shared the optimal format in the next section.
Mathematical Communication (4 marks)
The second criterion looks largely at the mathematical language you have used, such as:
• Notation
• Symbols
• Terminology
Ensure that these three components are accurate and consistent throughout your IA.
Terms like "plug in" or "put in" should be replaced with mathematically sophisticated words like "substitute."
Personal Engagement (3 marks)
To achieve the top marks for personal engagement, your engagement must be truly authentic and drive the exploration forward.
It needs to be independent and unique. It should display a degree of creativity in that you present mathematical ideas in your own way and explore the topic from various different perspectives.
This involves making predictions about things you may be interested in, and then finding ways to manipulate the problem, formula, or question to encompass those areas.
Reflection (3 marks)
The IB needs us to do more than just show what we've done.
During the reflective stage, connect the results with the initial aims. By doing this, you can determine findings throughout the process.
It is about evaluating the research to pick up on all evidence that goes beyond what a typical mathematical test would.
The IB is all about learning, so be sure to show the marker your growth throughout the IA.
Use of mathematics (6 marks)
This section looks at the quality of the maths and how relevant it is to the exploration.
The IB is measuring relevancy by checking that you only included maths that is directly intended to answer the research question.
It is also worth noting that the maths produced should be at a similar level to the math you cover in your syllabus. This doesn't mean that you're confined to only looking into topics that are covered on your syllabus, but it should be of the same rigour!
How to Format these Sections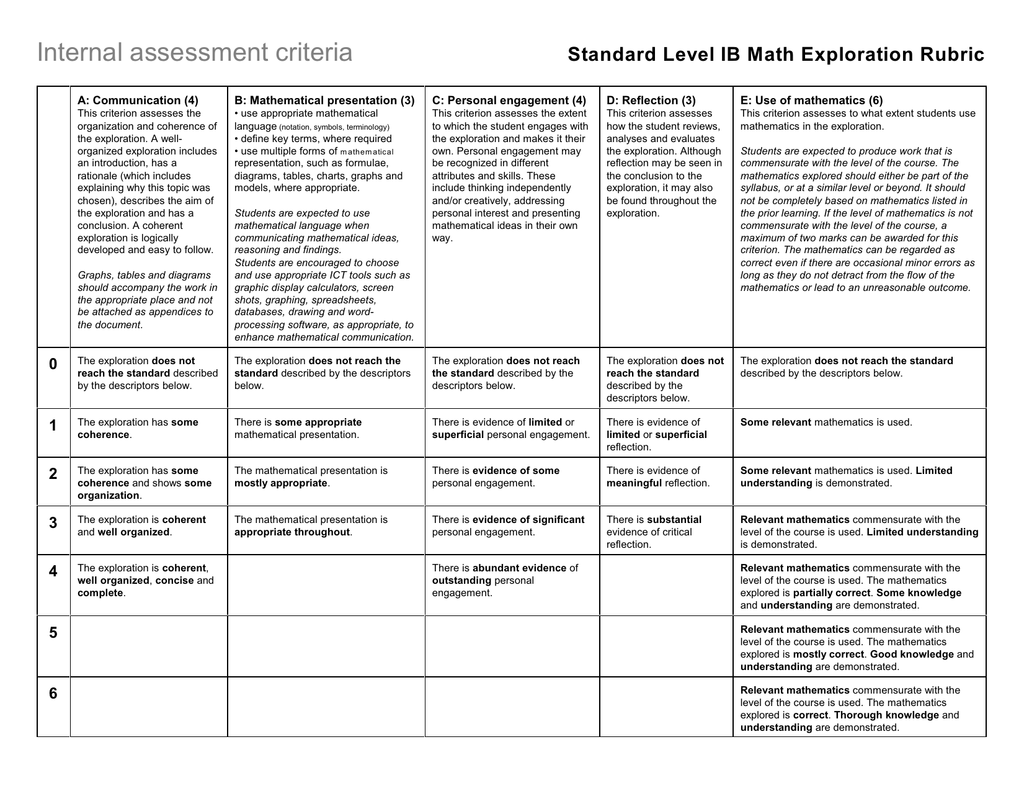 Introduction:
Like almost all of your internal assessments, your Maths IA has to begin with a super clear introduction that sets the context and aim of the whole exploration.
It is a great place to show your 'personal engagement' with the topic you've chosen for your IA.
Be sure to account for your interest in the top, its relevance in your life, your prior knowledge about it, what you wish to achieve, and how you'll arrive at an answer.
You may also include any personalised problem statements and explain how you aim to achieve a solid investigation on the topic.
Body:
The body of your IA exploration should focus on the particular topic you have chosen to investigate and the relevant mathematical material that will address the intended aim of the work.
A pivotal point to consider is the level and clarity of the mathematics you use – the IB rewards a lot of marks for the use and communication of Mathematics, so keep this in mind when you start writing your Maths IA up!
For more info on how to write the exploration, check out our complete Math IA Guide.
Math IA investigation:
As with all assessments, you also need to include a solid conclusion that summarises the research and work you've done.
What conclusions did you reach, and did you succeed in exploring the aim that you set out at the beginning of the Math IA!
Importantly, make sure to also discuss some of the challenges in your IA and what you would/could explore with more time and more words.
Finally, zoom out and think about the further implications of your study.
Did your learning affect your life in any way, or how might it affect the lives of others? How has your involvement allowed you to reflect on different mathematics topics?
Length:
There is no specific word count for your Math IA, but the IB advises that the exploration should be around 12-20 pages long.
Fonts and Spacing for Your Math IA:
There are no specific requirements on which font you should use, but going with Arial or Times New Roman is generally recommended, with double line spacing and font size of 12.
You may present your work in a word processing software (like Microsoft Word or Pages), or it can be handwritten.
Diagrams and Graphs:
You should include relevant graphs, tables, and diagrams.
Do not simply place these simply as appendices at the end of the essay – they should be fully and clearly labelled to ensure that the examiner knows what you've included and why.
It forms an essential part of your research and shows that you fully understand the examples you have included in your analysis.
Bibliography and Citations:
Your report should include a full bibliography with all sources at the end of the report.
In addition to a bibliography at the end, you must acknowledge all direct quotes that you use throughout your essay.
Topic Ideas for SL and HL mathematics
There are many ideas you can explore for the assessment, including graph theory, surface area, geometry, calculus equations, statistics, linear regression, modelling statistics, the SIR model, etc.
It helps to understood the marking criteria before deciding on your topic to ensure you use premium content in your work that can help you score highly.
In your development, you may investigate the correlation between different topics or ideas within Mathematics SL and HL or your AI SL.
Whatever you choose, remember that you will create a new exploration of complex ideas. It's wise to form your own opinions based on substantive evidence.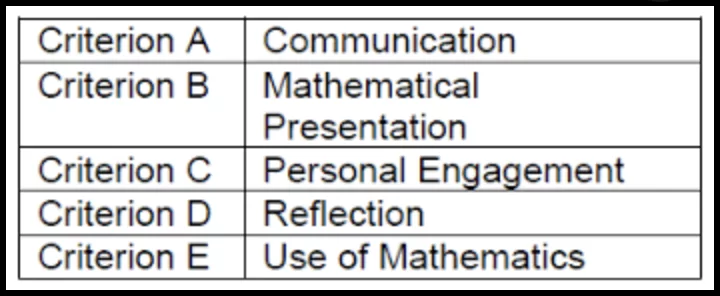 Mathematical Concepts Conclusion: The IB Structure
So there we have it, a well organized exploration of the idea and IB layout of your Mathematics IA!
We hope this will give you the push you need to realise your potential and understand complex and unfamiliar mathematics. As with all mathematics, personal involvement by means of practising is best if you want to score highly in your HL syllabus.
Lanterna Resources and Opportunities for Math IA
If you need a bit more of a boost, we've got free resources for IB students that you might find helpful! For more personal engagement, feel free to reach out to your instructor or tutor.
Lanterna also offers the following to support students:
Revision Courses: These offer a helping hand when it matters the most to boost your grades! Look out for these during the Winter and Easter breaks before the final exam.
Summer Courses: When you are about to start your first or final year of the IB, the summer presents the perfect opportunity to get ahead.
Online Private Tuition: One-on-one support from the comfort of your own home, whenever and wherever you need it.