It looks like the IB will carry on as normal despite the crazy changes we are seeing around the world. As students, we know this is going to put an added strain on an already difficult diploma. So how can we work smarter even when we are forced to self-isolate? In this IB coronavirus advice blog, we're hoping to pass on some of the best resources for self-study in the IB program!
GetRevising!
Staying disciplined whilst self-studying can be super tricky. The allure of the news, social media and Netflix amongst a multitude of other distractions is hard to pull yourself from. That's why we think creating a timetable for your work is crucial. The problem, however, is a lot of IB students even procrastinate by making timetables! That's why we are so pleased to have found the website GetRevising! Plug in your subjects, commitments and even your exams and after thirty seconds you'll have a beautiful timetable to adapt and work from making this one of our essential resources for self-study.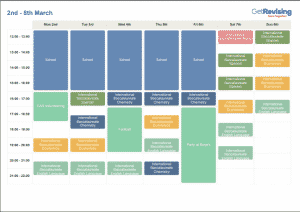 Khan Academy!
We all have that subject that we feel like won't go well. No matter how much we stare at the past paper or ask our teachers, it just doesn't click. That's why we think using creative online resources are so valuable. One of our favourites is Khan Academy! This website has an unbelievable library of content to help us develop our understanding of tricky IB topics. Take a deep dive into some trigonometry or really figure out how respiration works. It's all free and it's fun!
Memrise!
Are you struggling with your Language B? Time and time again we see students focusing so much on their maths, sciences, and social sciences that they completely forget that they've got languages to worry about as well! Getting a strong grade in French, Spanish, German, or whichever language you're studying is not as easy as you think. Memrise might just be one of the best resources for self-study in terms of guiding you to language success. You can watch conversations with native speakers (which will help massively in the listening section of the exam), you get personalized learning experiences, and small games are littered throughout to keep the learning interesting!
Wunderlist!
Staying focused can be a tall order when we work from home. It is for this reason that we recommended grabbing some sort of task-manager. One of our favourites is Wunderlist. Using the app, you can break down those tasks that you have now popped into your schedule. We all know it's tremendously tricky to stay guided when we simply have '1 hour of Biology' in our plan. That's why breaking down that time into smaller chunks is so useful – it helps us feel motivated and provides us with a focus. If Wunderlist isn't to your taste, check out Todoist or Evernote. They're also free and have slightly different features that might fit even better with your personal study techniques.

Want to know more about how to ace your exams? Click the image to download our free guides!
Lanterna Online Tutoring!
If you're struggling without structure and are looking for expert assistance, by all means take a look at our online private tutoring service! Grab a 40+ scoring recent IB graduate to cover any topic or task from the comfort of your own home. Our team are experts in the IB diploma – in fact, the most common score of our tutors is 45…
Want to find out how to top score? Read advice from 45ers!