Thinking of taking the International General Certificate of Secondary Education (IGCSE)? If you were waiting for a sign, this is it! You're in the perfect place to learn about what the IGCSE offers and how you can prepare for IGCSE success.
Students everywhere feel anxious about the Cambridge IGCSE. Some aren't sure about which IGCSE subjects they should take. While other students worry about getting the Cambridge IGCSE grades they need for university.
We want you to know that you aren't alone! There are ways you can prepare for the IGCSEs and reach your academic goals. And we're here to give you expert advice to help you survive and thrive.
Keep reading to learn more about the IGCSE and GCSE, and learn how to get IGCSE-ready before you begin your internationally-accepted secondary education certificate.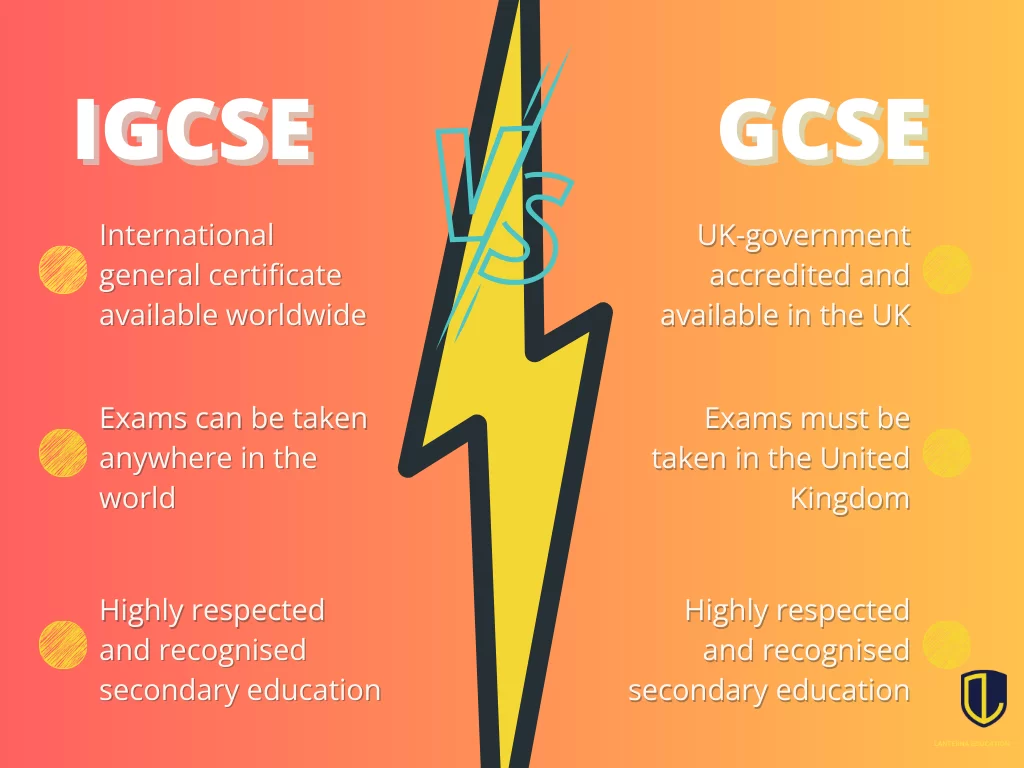 IGCSEs or international GCSEs – Which is better?
Both the Cambridge IGCSE and Pearson Edexcel International GCSE certificates impress universities! Educational institutions and admissions boards worldwide actually view both certificates as equal qualifications. This is because IGCSEs and GCSEs offer high-quality, internationally-recognised qualification that prepares learners for academic success and further study. 
You can use the Cambridge IGCSE or the Pearson Edexcel International GCSE to boost your college applications. So if you were wondering which course looks better on your transcripts, the answer is both.
Universities and colleges may accept these as equal qualifications; however, the courses have very different syllabuses and assessment methods. Details students must be aware of when choosing between the two certificates.
To help you decide which further academic study is best for you. We'll explain what the IGCSE and International GCSE offer and how they differ.
The international GCSE qualifications explained
The iProgress offers a series of internationally recognised academic qualifications. And they design their courses for international schools and learners. The Pearson Edexcel International GCSEs are part of the iProgress family, with a syllabus created for learners between 14 and 16 years old.
There are 5 exam boards (AQA, Pearson Edexcel, OCR, CCEA, and WJEC) across the UK, including England, Wales, and Northern Ireland, that approve this international general certificate. And the Office of Qualifications and Examinations Regulation (Ofqual) oversees and controls all 5 of the GCSE's examination boards to make sure students meet the same standards and receive the same qualifications, no matter which country they live in. 
International schools, coursework and GCSE exams 
Independent schools in the UK offer the Pearson Edexcel International GCSE, and the course is available in over 80 countries around the world.
To complete the GCSE and earn a certificate, students must study 7 to 10 subjects over 2 years. Students who choose the Pearson Edexcel GCSE qualification have to do compulsory subjects, which include:
 Mathematics

English (First Language)

Science (Biology, Chemistry and/or Physics) 
Most schools set required GCSE subjects for students too, like English Literature or a Second Language. Students may choose their subjects from the 37 subjects available in the GCSE.
Learners must complete coursework and assessments before taking their General Certificate of Secondary Education examinations that consist of a single set of exam papers (except for Maths).
The Cambridge IGCSE qualifications explained
The Cambridge IGCSE is globally recognised and widely accepted. Like the international GCSEs, the Cambridge IGCSE is for students between 14 and 16. And its syllabus services overseas teachers and learners at private and state-maintained schools.
The Cambridge International Examinations exam boards accredit the IGCSE qualification. The Ofqual (The Office of Qualifications and Examinations Regulation) also regulates the Cambridge IGCSE's examinations to ensure academic standards are the same everywhere.
Independent schools and IGCSE assessments
At first, the Cambridge IGCSE created its syllabus to provide educational services to international learners, teachers and state schools. But more and more independent schools in England offer IGCSEs because the UK government recognises and approves the Cambridge IGCSE qualification.
Unlike the GCSE qualification, the Cambridge IGCSE is available at over 300 private schools in the UK. And over 120 countries all over the world!
You must complete a 2-year course and do between 5 and 14 subjects. You'll need to pick additional or vocational subjects from over 70 subjects. And as a Cambridge IGCSE candidate, you must take 3 core school subjects:
Maths

English (Language)

Science (Biology, Chemistry and/or Physics) 
One of the best things about the Cambridge IGCSE is that you don't have to complete coursework. So you only need to write IGCSE examinations. And you're done!
Now that you know more about the Cambridge IGCSE and Pearson Edexcel International GCSE qualifications. Let's look at how you can set yourself up for academic success before you begin the IGCSE next year!

3 ways to set yourself up for IGCSE success
The Cambridge IGCSE gives you loads more options when it comes to subjects. Plus, learners with IGCSE qualifications can use their Cambridge-accredited certification to apply at almost any college or university worldwide. But there is something you need to remember when doing the Cambridge IGCSEs.
Most universities don't only want to see that you've earned an IGCSE qualification; they also want you to get amazing results. So you'll need to perform well and get the subject grades for university admissions to consider your application (and accept you!).
At Lanterna Education, our team are IGCSE and IB graduates, so we know exactly what learners need to do to prepare for the Cambridge IGCSE. And success! Below we've put together our top 3 ways to prepare for the IGCSE course.
1) Set SMART IGCSE goals
Ask any IGCSE teacher, tutor or graduate in any country. They'll tell you that setting academic goals is really important, especially if you want to impress your dream university or any other educational institutes and study further.
Setting goals sounds simple, but if your goals don't match the results you need to aim for during your Cambridge IGCSE studies, they'll actually make your life more stressful. If your goals are unrealistic or unclear, you'll lose motivation. And get nowhere! So you need to set SMART goals.
What are SMART goals? They're clear goals with easy-to-measure results that help you stay focused and motivated throughout your IGCSE studies. SMART stand for specific, measurable, achievable, recorded and timed:
Specific

means you must make your goals for each subject task very clear.




For example, a specific goal is

"I will study a language every day instead of spending time on TikTok or watching TV."

Measurable

means your goals need to have a set aim or standard that you can measure your progress and performance against.




An example of a measurable goal is

"I will study Maths for 2 hours every day."

Achievable

means your goals should not be too easy or hard. And they should be realistic.




"I will review my science notes every Monday afternoon"

is an example of an achievable goal.

Recorded

is exactly what it sounds like. You must write your goals down and track the things you've already accomplished.

Timed

goals have a set time limit.




A timed goal would be

"I will review all my IGCSE subject notes before the end of the semester."
You don't need to set your SMART IGCSE goals right now. But we recommend you start thinking about them. Just remember to set your performance goals before starting your IGCSE course.
2) Prepare for your exams… Now!
Author and motivational speaker Jack Canfield once said, "People make their own luck by great preparation and good strategy." And we couldn't agree more! Here's how you can prepare for the IGCSE examinations now and make your own luck:
Work on your study skills
We know preparing for your examinations now sounds crazy. But if you improve your study skills now, revision won't be so stressful when it's time to write your examinations.
Our team have loads of advice to help you improve your memory, and our IGCSE study skills guide is full of tips and hacks to help you reach your full potential.
Turning revision into a habit doesn't only make learning and remembering information much easier. It also means you won't need to cram loads of knowledge into your head in a short period of time.
Basically, studying a little bit every day makes examinations less overwhelming and helps decrease exam-related anxiety.
Did you know you can turn your phone into a study resource? We have a blog post all about Free apps that help with exam revision. Learn how to turn your phone into your #1 study buddy here. 
Learn to use your time wisely
"You should study!" "Why aren't you studying?" and "Don't waste time! You need to study." are phrases students all over the world hear all the time.
And believe us; we know how hard it is to stop yourself from rolling your eyes when you hear these words. But that's why we love teaching learners how to use their "dead time" to get more studying done!
We explain everything you need to know about dead time and how to use it to improve your academic performance. Head over to our post to learn how to use dead time in your IGCSEs. 
3) Give yourself free time and relax
Last but certainly not least, remember to relax before you dive into the IGCSE. It is no secret that the IGCSE qualifications aren't easy, and part of preparing yourself for this challenging academic programme is allowing yourself to rest.
If you rest and relax before starting the Cambridge IGCSE, you'll have the energy and brainpower to do your best. And perform at your very best.
So de-stress, enjoy life, take a break and have fun before you have to focus on school and IGCSE subjects.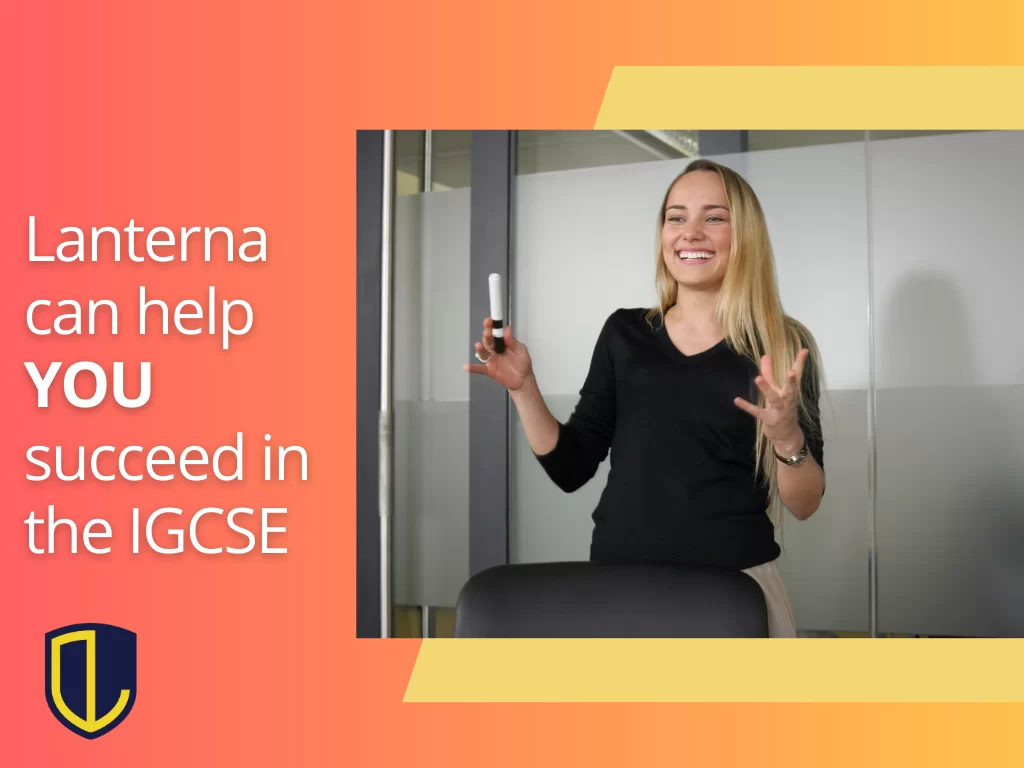 Achieve IGCSE success with Lanterna Education
The tutors at Lanterna Education have years of experience helping learners just like you reach their goals and earn their internationally recognised Cambridge IGCSE certificate.
We are here to help you succeed in the IGCSE and IB. Our experienced tutors provide one-on-one sessions and personalised tutoring to help learners all over the world get the result they need to blow admission boards away and earn a spot at their dream university.
Plus, we have Free resources for IGCSE students and helpful student tips on our blog page dedicated to the IGCSE.